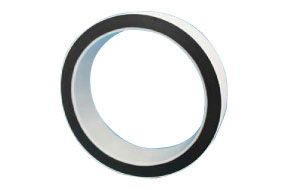 Mining Industry
In principle PE pipes are perfectly suited for conveying fluids-solidmixtures
(slurries). In many cases PE pipes are superior compared
to other materials, e.g. concrete pipes or steel pipes. There are
already numerous positive experiences in different application.
Feedback from real application combined with results from
abrasion test enabled further improvements and led to the
developed the Mine-Line pipes which feature an even further
improved abrasion behaviour. The main body of the Mine-Line pipe
is PE 100. In addition it features the following functional surfaces:

1. Newly developed inside layer for maximum abrasion resistance,
even in harsh applications
2. zzWhite outside surface reduces pipe temperature in sunlight,
thus thermal expansion is reduced (less snaking)

The Mine-Line pipe is available from 63 mm up to 400 mm in
SDR 17 and SDR 11. The main applications are slurry lines in
the mining industry or any other highly abrasive installation.
Abrasion tests proved the excellent resistance to fluid-solidmixtures.