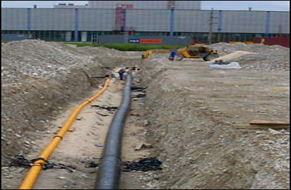 BMW is using AGRU piping and fitting systems in construction stage VII
Construction stage VII is running at the BMW factory in Steyr. The underground pressure piping systems for fire fighting water are implemented with FM (Factory Mutual) approved PE 100 pipes and fittings from the company AGRU Kunststofftechnik GmbH. The supplied pipes and fittings of the dimensions Ø 90 to Ø 400 are approved acc. to FM Class NUMBER 1610 "Pipes & fittings for Underground Fire Protection service". Like the BMW factory Leipzig, also the BMW factory Steyr trusts in the high quality standard of AGRU.

All pipes and fittings were joined together tightly and material conform by heating element butt welding or electro fusion. By means of doing so, the danger of corrosion or leakage is impossible. Consequently it is also possible to enlarge and/or to extend the piping system at a later time and without big efforts.

More than 1200 m PE 100 pipes in the dimensions from Ø 90 to Ø 400 were processed for the supply-system for fire fighting water. Additionally to the pipes also fittings such as elbows, tees, reducers and end caps in the dimensions mentioned above were integrated into the piping system. The complete piping system is designed for a lifetime of more than 50 years.