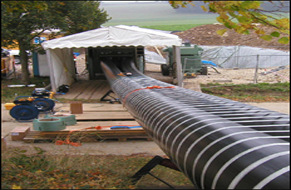 Rehabilitation of Drinking Water Pipeline LONSEE-HALZHAUSEN
As rehabilitation method for the drinking water pipeline Lonsee – Halzhausen the subline – method was chosen. By means of this method the pre-welded pipeline has to be folded and then pulled into the existing concrete pipe. Afterwards the pipeline is blown up with the working pressure of 8,5 bar. By doing so, the pipeline builds a so called "Close-fit" system. This means that there is no gap between the old concrete pipe and the new PE 100 pipe.

In cooperation with company Frank, AGRU delivered the PE 100 piping system with a special dimension of OD 1480mm – SDR 60 and a total length of approx. 600m, which was installed in spring 2007 by an installation company. The total costs for the rehabilitation of the concrete pipe with a length of approx. 550 m were € 500,000.-. In comparison, the total costs for the replacement of the whole concrete pipe would have been approx. € 2.0 mill.

It has already been decided that the remaining 6 km of the pipeline shall be rehabilitated by means of this method. The rehabilitation shall be completed by 2012.