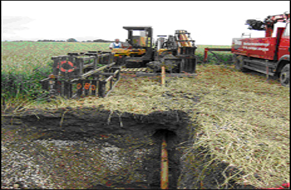 Trenchless installation of a drinking water pipeline
Connection to a drinking water supply

Pipingsystem:
Location: Buchkirchen near Wels/Austria
Material: PE 100 black with blue stripes - MRS 10 acc. to ISO 9080
Dimension: ø 250 x 22.7 mm
Operating pressure: up to 16 bar
Length of pipeline: 4700 m

Joining technology:
The pipes were connected outside of the trench with heating element butt welding to pipelengths of approx. 100m. Afterwards the connection of the pipeline in the trench was done by electro fusion welding.

Installation:
Steerable drilling system with a minimum installation depth of 1.5 m.