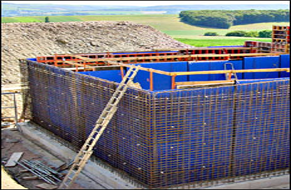 Potable water tanks out of PE 100 Sure Grip Concrete Protective Liners
CAST IN SITU LINING
PE 100 Sure Grip Concrete Protective Liners
Area in all 595m², Sheet-size 4 x 2m
Stud height 13mm - blue
Oberstreit and Boos, Rheinland-Pfalz, Germany
Design: Company ISOBAU and company Frank, Germany

In situ construction of 2 storage tanks for potable water and a pump station for supplying the communities Oberstreit and Boos.
The whole structure was lined with AGRU Sure Grip CPL out of blue colored PE 100, having drinking water approval. After the wall lining was finished, the ceiling framework was erected, where the CPL were applied to and then welded to the wall lining. For the floor lining a raster out of PEHD profiles (mechanically fixed) was installed and the Sure Grip liners were welded to the profiles. Then the open space was backfilled, using special shrinkage grout under permanent load to avoid updrift. After the curing time of 2 days the wall penetrations were closed by welding and the tanks were checked with high voltage according to DVS 2225-part4.
Agrusafe Concrete Protection