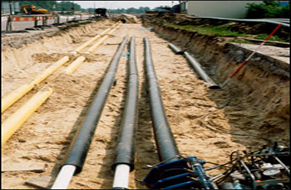 Double Containment Piping System - CORUS BV
Double containment piping system PVDF/PE
in Velsen Nord, The Netherlands

PVDF/PEHD double containment pipes in the dimension 90/160 SDR21/SDR17 were used for this project. Furthermore, bends 90°, bends 45°,
tees and dog bones with and without cut-out
were installed. As connection method, cascade butt welding was chosen. With this method, the inside pipe is welded by means of a standard butt welding mirror and the outside pipe with a split heating element. The complete system is buried and designed as a rigid system. In the pipeline, hydrochloric acid up to a temperature of 90°C and a pressure of 3,5 bar is transported.

The resistance of PVDF for the transport of this medium is excellent. The calculated life time of this plant is 25 years. Approximately 1.000 m of double containment pipes were installed in total for this project.

Industrial Piping Systems