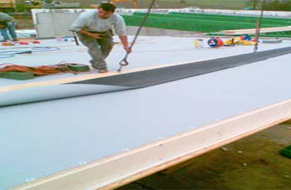 AUSTROPLAN offers new application
The company Schmid Bauunternehmung-Holzbau GmbH manufactures large-area, prefabricated roof elements, which are used at major customers such as for example the food store chains BILLA, PENNY and SPAR. The company Schmid employs 200 staff members and uses about 60.000 m² roof liner every year. These roof elements are already prefabricated at their plant with the required length and width and were glued with EPDM roof liners till now.
As there were often arising problems regarding the gluing of the EPDM liners because of climatic influences during the installation process, it was changed to the mechanically fixed system with the AUSTROPLAN roof liner FVK 1.8 mm. For the mechanical fixing of the roof liners, fixing elements of the company AURO Technik are used.
With the construction of a new BILLA/PENNY store in Grieskirchen a project with the AUSTROPLAN FPO roof liners has already been realized with success. The installation resp. welding of the roof liners was made by the company Aqua-Umwelttechnik in Pramet.