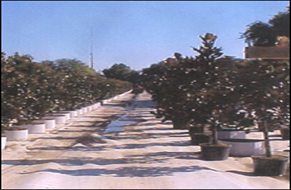 New irrigation technology using AGRU white/black co-extruded liners
Holloway Irrigation Systems (HIS) offer a new developed and approved method for irrigation systems using HDPE white/black co-extruded AGRU-liners.

HIS - developed five years ago near Orlando (Florida, USA) - is a patented method and system for commercial agricultural irrigation of potted plants, using AGRU low-density polyethylene white/black co-extruded liners to cover an entire irrigation field as well as its reservoir.
The system is suitable for rain collection and keeps agricultural waste water from escaping to the surface or into the ground water sources.

Due to the high flexibility of the liner, the system can either be installed on flat or on terraced terrain - it works efficiently in each situation.