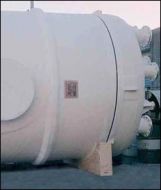 ECTFE - FRP Reactor Vessel
Ø 10 foot ECTFE – FRP Reactor Vessel for Copper Hydrometallurgy
Copper and silver refinery in USA (manufactured by company PROLITE, Canada)
The outside body of the reactor is designed with a 2,3mm fabric backed ECTFE semi finished material fully laminated by FRP, heads and bottoms vacuum formed. AGRU piping fully bonded to FRP structure. Internal ECTFE baffles and dip tubes built with AGRU ECTFE sheets and rod. The vessel contains Selenium in Hydrochloric Acid at 90°C, as well as some SO2 gas and traces of H2SO4.
All hot gas welding, including Sandwich construction of ECTFE/FRP/ECTFE. (Technique for internal strength).
Calculated lifetime in extremely corrosive and high temperature environment to be 10 – 15 years.