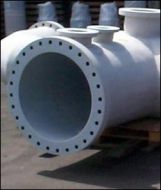 PVDF - FRP Ducting
24 inch PVDF – FRP Ducting for Chlor Alkali Plant
New environmental technology of collection of HCL gas from Chlor-Alkali process at 80°C at one of the world´s largest membrane plants in the USA
(manufactured by company PROLITE, Canada)

PVDF 3,0mm fabric backed sheets and 14" liner tube by AGRU are in use. The major welds were done by sheet butt fusion technique, hot gas welding on circumferential welds. The 14" liner tube is mechanically embedded with glass cloth by PROLITE Plastics Ltd. patented method. Duct system installed outdoors and some field welding applied to major system.
The system is calculated for a life time of 20 years.