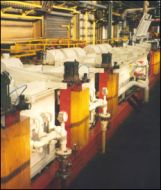 Steel Pickling Plant
Steel Pickling Plant of company Wuppermann in
Judenburg, Austria

PP-sheet material with thicknesses of 10 – 20 mm
PP-pipes SDR 11 with diameters of 20 – 63 mm

Connection of the sheets by means of
hot-gas welding and extrusion welding.

Connection of the pipes by means of butt- and
socket welding.

With hydrochloric acid (90°C) and sodium hydroxide (40°C) the steel bands up to a width of 300 mm can be pickled continuously. The working life of the plant is designed for 25 years.